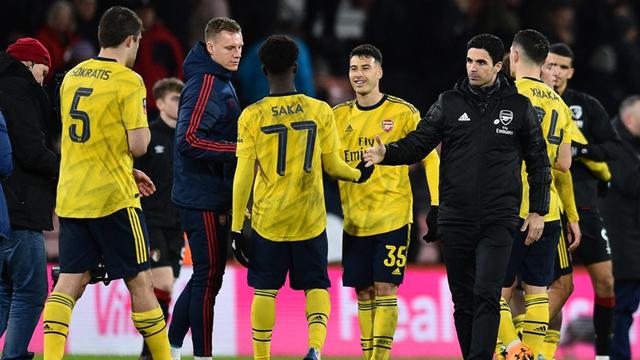 Bournemouth – Manajer Arsenal, Mikel Arteta, memuji performa pemain muda timnya saat bersua Bournemouth pada laga babak keempat Piala FA. Menurutnya, penampilan pemain muda The Gunners makin berkembang.
Menjalani pertandingan di Vitality Stadium, Senin (27/1/2020) malam waktu setempat, Arsenal tampil dengan mayoritas pemain lapis kedua.
Bahkan, terdapat lima pemain yang berusia antara 20 tahun di skuat inti, yakni Matteo Guendouzi (20 tahun), Joseph Willock (20 tahun), Eddie Nketiah (20 tahun), Gabriel Martinelli (18 tahun), dan Bukayo Saka (18 tahun).
Meski tidak bermain dengan kekuatan terbaiknya, Arsenal mampu menguasai jalannya laga. The Gunners mencatatkan 60 persen penguasaan bola, berbanding 40 persen milik Bournemouth.
Mereka juga melepaskan tujuh tembakan yang tiga di antaranya mengarah ke gawang. Di sisi lain, The Cherries memiliki dua peluang bagus dari tujuh kesempatan.
Tampil dominan, Arsenal mampu menyudahi laga dengan kemenangan 2-1. Sepasang gol The Gunners disarangkan Bukayo Saka (26′) dan Eddie Nketiah (26′), sedangkan gol tunggal Bournemouth dicetak Sam Surridge (90+3′).

Puji Pemain Muda

Mikel Arteta mengaku puas dengan performa anak asuhnya, terutama pemain muda. Menurut Arteta, pemain muda The Gunners selalu berusaha untuk menjadi lebih baik lagi.
"Sangat menyenangkan. Selalu sulit untuk datang ke sini dan menang, kami juga melakukannya dengan skuat muda," ujar Arteta.
"Saya sangat percaya kepada mereka. Saya menilai mereka berkembang dengan sangat baik. Mereka mau dan lapar dan hanya akan menjadi lebih baik," lanjutnya.
Dengan hasil ini, Arsenal berhasil lolos ke babak kelima Piala FA. Lawan selanjutnya yang akan dihadapi Tim Gudang Peluru adalah Portsmouth di Fratton Park, pada pertengahan Maret 2020.
"Sejarah kami di Piala FA sangat besar bagi klub. Kami harus mengambil selangkah demi selangkah (untuk terus melaju)," tutur Mikel Arteta.